8 Things You Might Not Know about Beef Star Steven Yeun
Steven Yeun plays Danny Cho in a new dark comedy Netflix series, which has quickly become one of the platform's most popular shows.
By Tyler Piccotti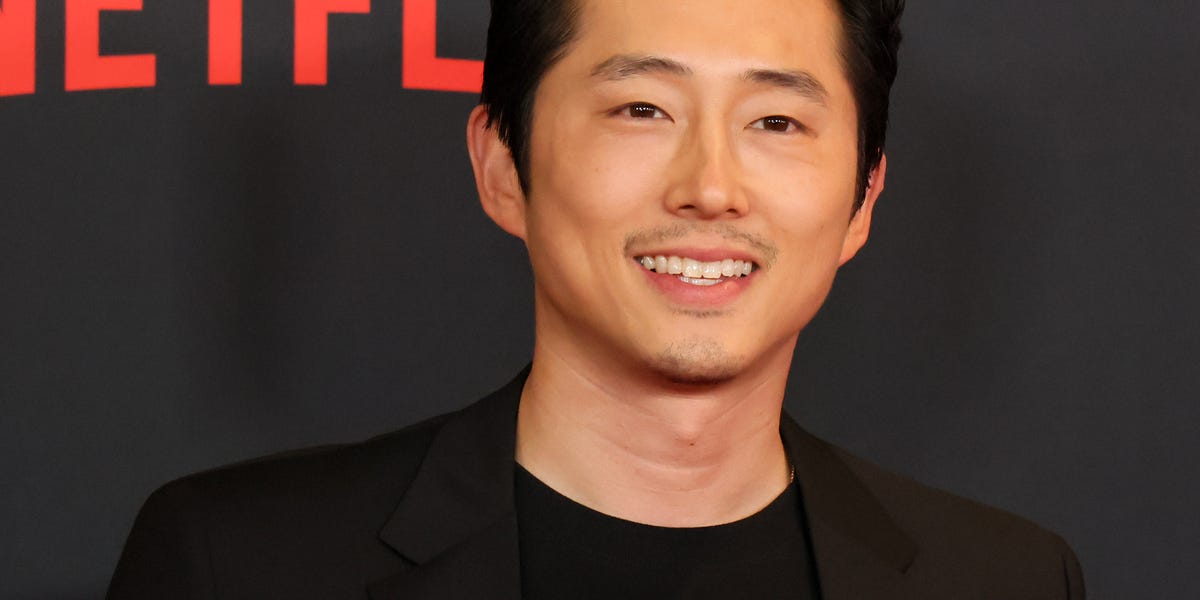 Getty Images
Actor Steven Yeun is all the rage thanks to the road rage comedy Beef on Netflix. The series, which stars 39-year-old Yeun and comedian Ali Wong, was the streaming service's third-most watched television show from April 3-9 with more than 34 million hours of streaming time.
It's the latest hit for Yeun, who had his breakthrough role on AMC's The Walking Dead from 2010 through 2016. He has since gone on to star in films such as 2020's Minari—which earned him an Oscar nomination—and Jordan Peele's 2022 science fiction thriller Nope, as well as TV shows like the Netflix animated comedy Tuca & Bertie.
Here are some things you might not know about the South Korea–born Yeun and his acting career.
His name came from a doctor his parents met.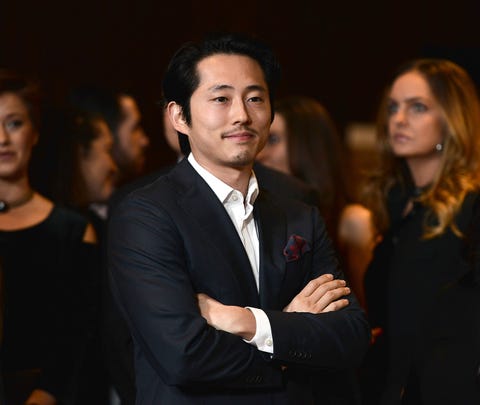 Getty Images
Yeun was born Sang-yeop Yeun on December 21, 1983, in Seoul, South Korea. He wasn't known as Steven until after he and his family moved to the United States.
On an October 2016 episode of Conan O'Brien's TBS talk show, Yeun told the TV host his parents Je and June gave him the new name because they met a doctor named Steven and apparently liked it a lot.
He's a big sports fan.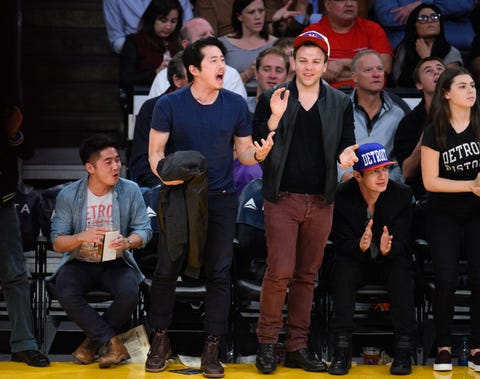 Getty Images
While growing up, Yeun lived in the Detroit suburbs of Taylor and Troy. Naturally, he became a fan of local pro sports teams like the NHL's Detroit Red Wings and the NBA's Detroit Pistons. He has been spotted cheering on the Pistons courtside at Crypto.com Arena when they visit Los Angeles.
His hockey fandom even drew the attention of the rival Philadelphia Flyers, who once trolled Yeun in a tweet referencing the "Lucille" cliffhanger from The Walking Dead.
He has a degree in psychology.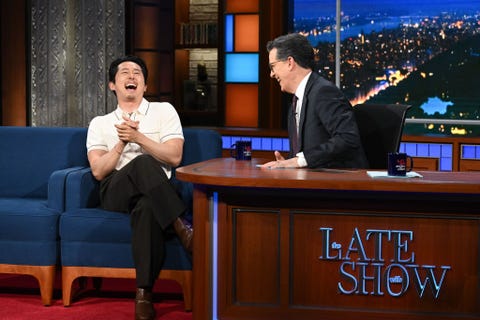 Getty Images
Yeun attended Kalamazoo College in Michigan, graduating in 2005 with a degree in psychology. When he wasn't studying, Yeun performed for the school's improv group and also participated in theater productions, setting him on a path toward his film and TV career.
Advertisement - Continue Reading Below
He met his wife, Joana Pak, met through a mutual friend.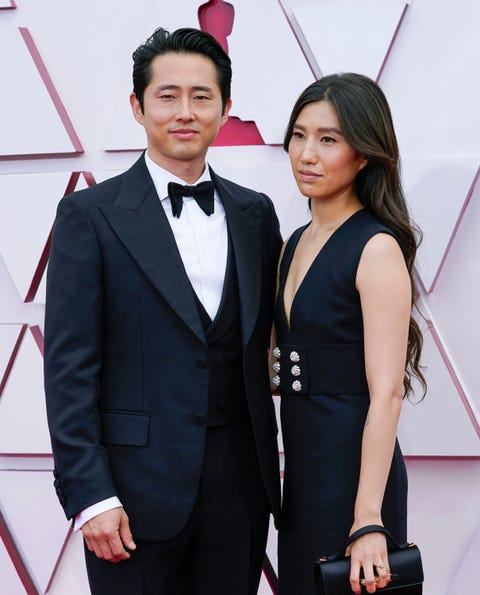 Getty Images
Yeun and his wife, photographer Joana Pak, met in Chicago in 2008 through a mutual friend. According to Martha Stewart Weddings, their romance didn't begin until 2009. Pak was studying at Columbia College, while Yeun was performing for The Second City comedy theater.
The two married in December 2016 and have two children: a son, Jude Malcolm, and a daughter whose name they have kept private.
He made Oscar history with his Best Actor nomination.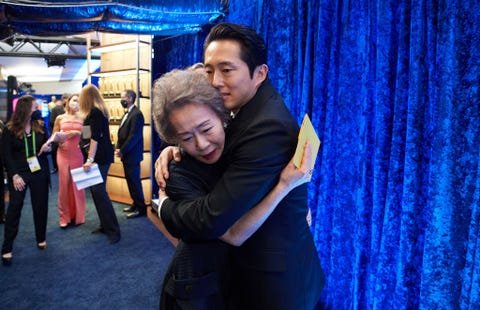 Getty Images
He was featured in the Time 100.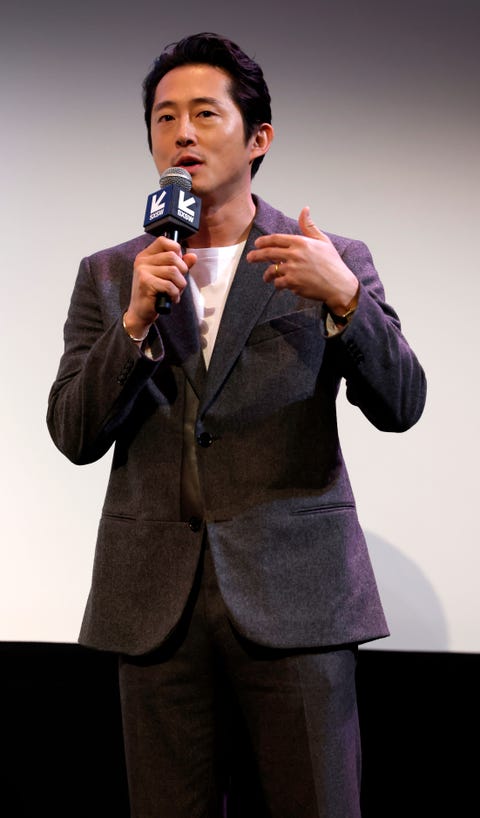 Getty Images
Time magazine featured Yeun in its 2021 list of the world's most influential people following his Oscar-nominated performance in Minari. Actor Tessa Thompson, who worked with Yeun for the 2018 film Sorry to Bother You, called him "a deeply fantastic human and a true leading man" in her guest writeup for the Time feature.
Advertisement - Continue Reading Below
He and Beef costar Ali Wong have become good friends.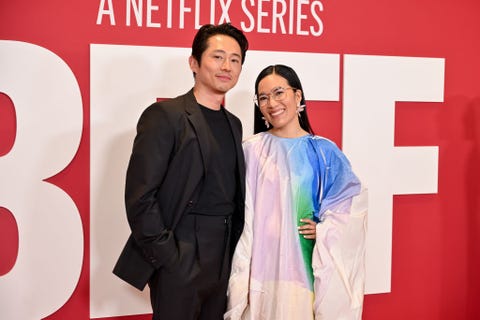 Getty Images
Yeun and his Beef costar Wong play adversaries on camera, but they get along just fine offscreen. In a March 2023 interview with Entertainment Tonight, Wong admitted to crying while filming the series but said Yeun helped her get through any challenging moments. "I'm really lucky that I had a costar like Steven who's so warm and so giving, and we've become such good friends," she said.
He won't be part of The Walking Dead again. Ever.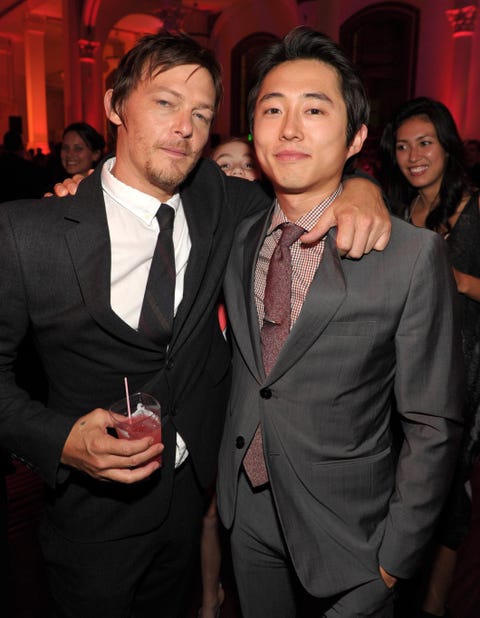 Getty Images
Yeun drew acclaim playing Glenn Rhee in his breakthrough role on The Walking Dead. While the original series ended in 2022, it has led to a variety of spinoff projects. However, Yeun said on the Conan O'Brien Needs a Friend podcast in 2022 that he won't return to the popular franchise in any role.
"An absolute door shut," he said. "There's not like a crack in the door. It is slammed shut and barricaded."
Associate News Editor, Biography.com
Tyler Piccotti joined the Biography.com staff in 2023, and before that had worked almost eight years as a newspaper reporter and copy editor. He is a graduate of Syracuse University, an avid sports fan, a frequent moviegoer, and trivia buff.