7 Things You Might Not Know About Gymnast and TikTok Star Olivia Dunne
The LSU gymnast has more than 7.4 million TikTok followers and is one of the highest-earning NCAA athletes.
By Tyler Piccotti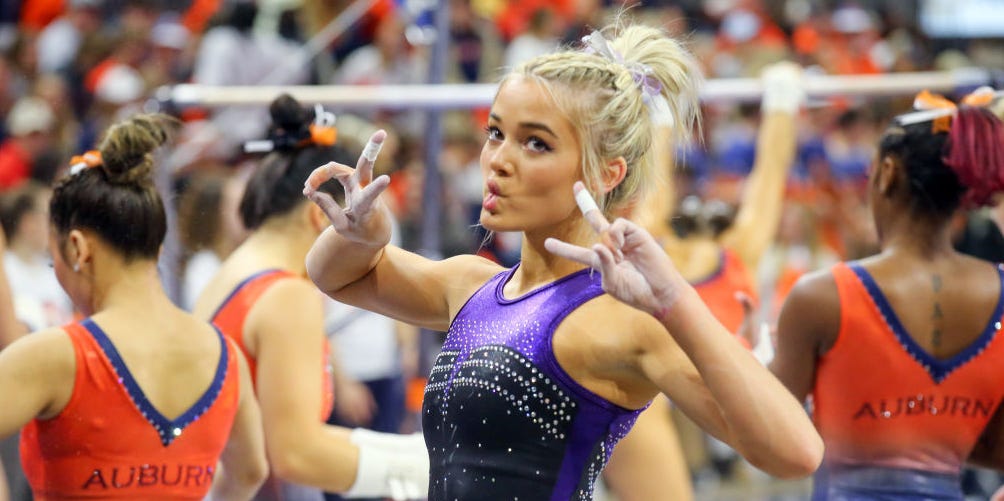 Getty Images
Social media is still flipping over LSU gymnast Olivia Dunne. The 20-year-old is also a TikTok and Instagram star with more than 11.3 million followers across the two platforms. Her immense popularity has helped her become one of the NCAA's richest athletes through an array of name, image, and likeness deals.
And she's a pretty good gymnast, too. The junior and her LSU team are one of the final four squads competing for the National Collegiate Women's Gymnastics Championship on Saturday in Fort Worth, Texas.
Here are a few facts to help you get to know the high-flying Internet star from Hillsdale, Hew Jersey.
Her entire family is athletic.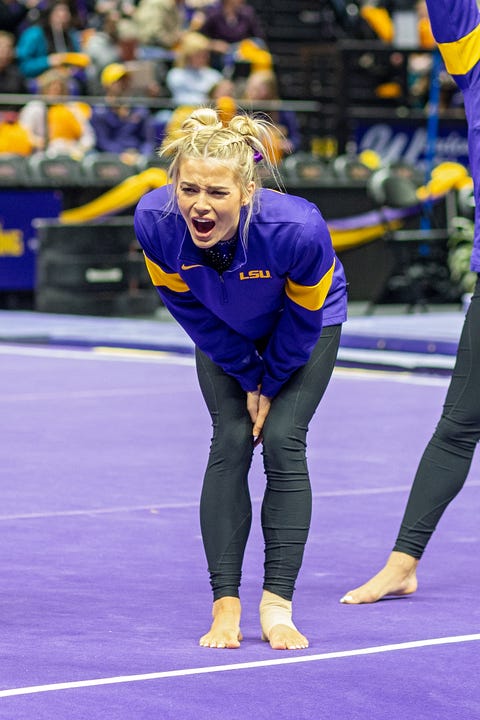 Getty Images
Dunne's mother, Katherine, was a gymnast and cheerleader, while her father, David, played Division I football at Rutgers University. Sister Julianna played softball at Pascack Valley High School in Hillsdale.
Dunne told Northjersey.com her cousin Isabella helped inspire her to start gymnastics because of the pretty pink leotard she wore. "I wanted one, too," Dunne said.
She has competed for the U.S. national team.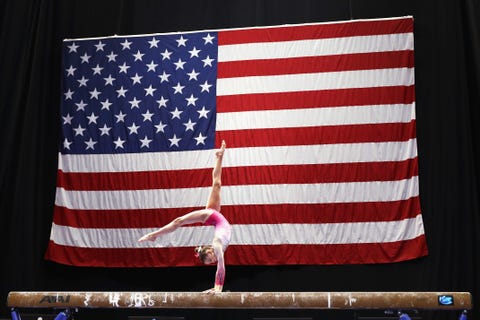 Getty Images
Although Dunne hasn't competed at the Olympics like Simone Biles or Suni Lee, she has attended national team camps at the USA Olympic training center in Texas.
In 2017, she represented the United States junior team at the City of Jesolo Trophy competition in Italy. The group won an all-around gold medal.
Her primary apparatus is the uneven bars.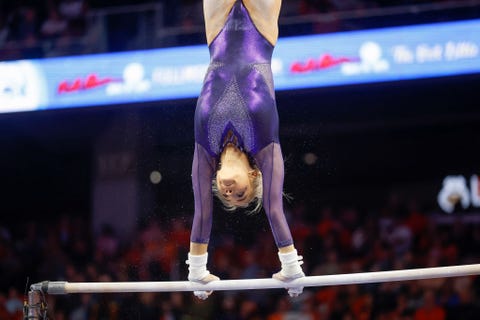 Getty Images
Dunne was named an All-American on the uneven bars as a freshman in 2021 with an average score of 9.844. She competed in the event at every regular season meet. She beat that average in the NCAA championships that year, posting a 9.900.
She has also competed in the floor exercise six times for LSU.
Advertisement - Continue Reading Below
Her meets require extra security.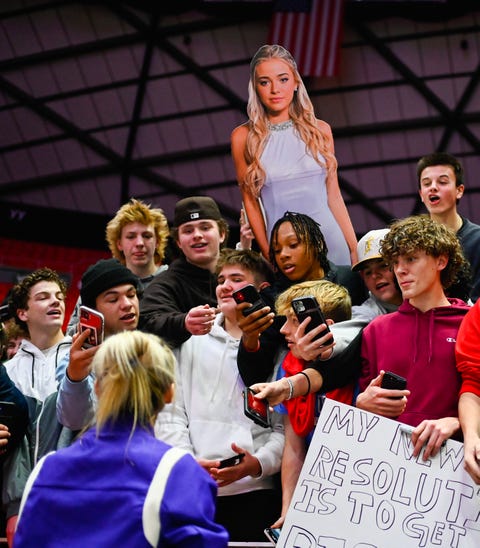 Getty Images
Dunne's social media popularity has led to big crowds at LSU meets, forcing the school to take increased safety precautions.
At the Tigers' 2023 season opener against Utah on January 6 in Salt Lake City, fans holding signs and a cardboard cutout disrupted other competitors by cheering and chanting for Dunne—who was injured and not competing.
LSU head coach Jay Clark announced the following week the team would have increased security detail for road meets. The school also changed a team policy allowing competitors to enter the stands following meets.
She has beef with a TikTok lookalike.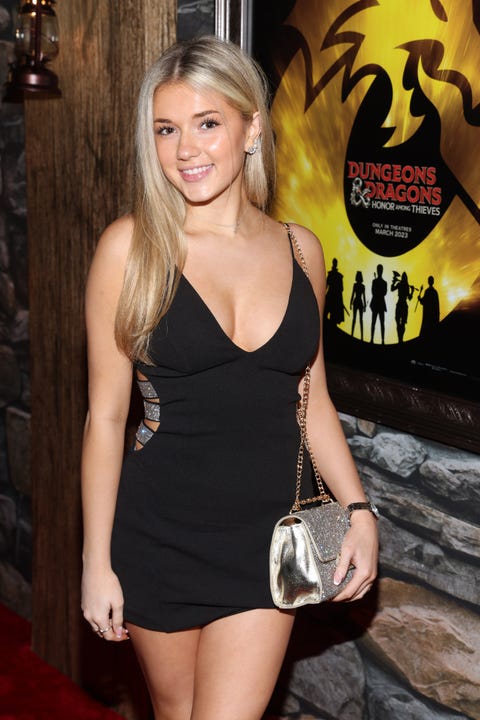 Getty Images
No, that's not Dunne in the photo. It's actually fellow TikToker Breckie Hill, and the two have developed a social media rivalry.
According to The Sporting News, Hill, 19, began posting photos similar to Dunne's out of spite after fans pointed out their near-identical looks. Then in a YouTube video posted on February 17, Hill said she wanted to slap Dunne. However, she later claimed she only said it to gain viewers.
Dunne has blocked Hill and just this week posted a video apparently mocking one of her prior posts.
She was featured on a Times Square billboard.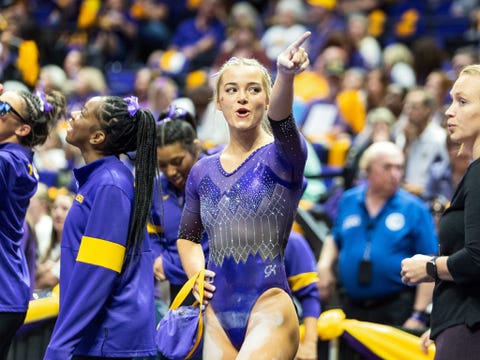 Getty Images
Dunne was featured with other LSU athletes on a virtual billboard in Times Square on July 1, 2021, after NCAA rules changed to allow for NIL benefits. At the time, Dunne had only 5.2 million followers, less than half of her current audience.
"I really love gymnastics, and I really love social media, so I thought, 'Why not do both?'" she said in a video after the rule change. "And LSU is the perfect school for that. I came here, and my social media just kept growing."
Advertisement - Continue Reading Below
She has endorsement deals with Forever 21 and American Eagle.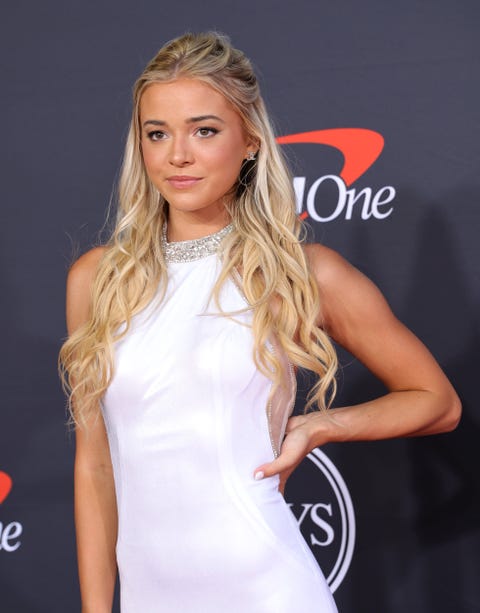 Getty Images
Dunne has NIL deals with companies such as Forever 21, American Eagle, and Vuori according to On3. She also has agreements in place with Grubhub, Linktree, and study app Bartleby.
Dunne's total NIL valuation is estimated to be $3.5 million—the highest for an NCAA female athlete. It's also third among all high school and college athletes behind basketball player Bronny James and football quarterback Arch Manning.
Associate News Editor, Biography.com
Tyler Piccotti joined the Biography.com staff in 2023, and before that had worked almost eight years as a newspaper reporter and copy editor. He is a graduate of Syracuse University, an avid sports fan, a frequent moviegoer, and trivia buff.