10 Things You Might Not Know about Brian Cox
With Succession about to begin its fourth and final season, here are some facts you might not know about star Brian Cox.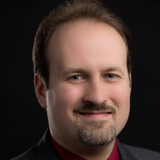 By Colin McEvoy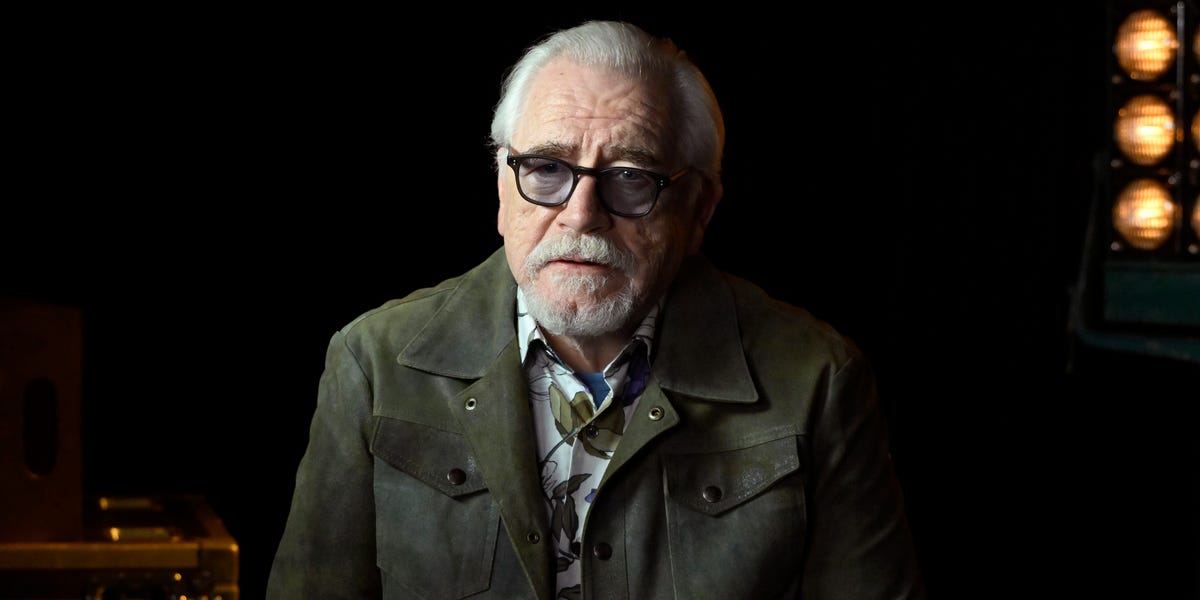 Getty Images
Brian Cox has received nearly universal praise for his performance in Succession as Logan Roy, the billionaire CEO of a global media conglomerate and patriarch of the troubled Roy family. The commanding portrayal is arguably the high point of a nearly 60-year career, which has more than its fair share of surprises over the decades.
The premiere episode of the fourth and final season of Succession airs March 26 at 9 p.m. ET on HBOMax. Before you watch, here are 10 things about Brian Cox that you might not have known before.
He's from the same place as Logan Roy.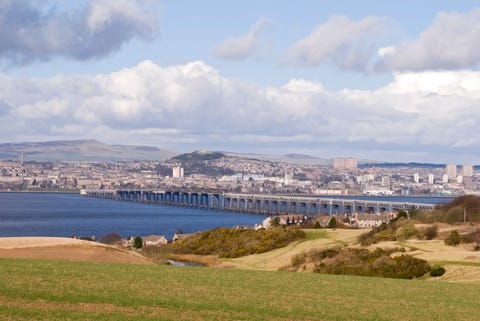 Getty Images
Brian Cox, 76, was born in Dundee, Scotland, the same birthplace as his fictional counterpart on Succession. While Logan Roy despises his hometown, Cox feels very much the opposite, telling BBC he's "very proud of the city and particularly proud of the people because they are so resilient and they've had a tough time."
Logan Roy wasn't always meant to share Cox's Dundee roots. In fact, the original plan called for him to be an American, but Cox argued strongly that he should be Scottish. The Succession producers initially rejected the idea, and only once filming was underway did Cox learn they had taken up his suggestion after all.
He turned to acting to cope with family tragedies.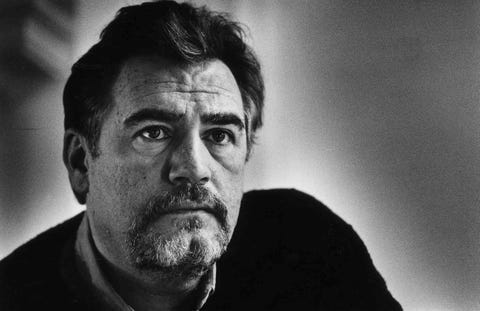 Getty Images
Cox's father, Charles McArdle Campbell Cox, died of pancreatic cancer when Cox was only 8 years old. Around that time, his mother, Mary Ann Guillerline, began to suffer from mental breakdowns, leaving Cox to be raised largely by his three older sisters.
Cox said he sought ways to escape from the realities of these hardships, and that led him to gravitate toward acting. "I think it's a defense mechanism from childhood that made me just say, 'I can't deal with this, so I shall just absent myself,'" he said.
He got his start mopping stage floors.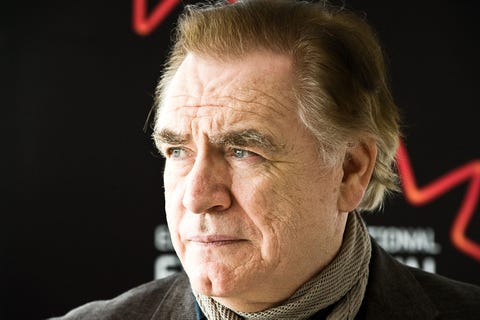 Getty Images
At age 15, after dropping out of school, Cox got a job running errands at the Dundee Repertory Theater. He usually shifted set pieces around and mopped the floors. He found comfort spending time at the theater and occasionally even slept there, according to The Telegraph.
Two years later, he won a scholarship to the London Academy of Music & Dramatic Art, and his acting career officially began. He became an accomplished Shakespearean actor, lauded for his performances at the Royal Shakespeare Company and the Royal National Theatre, particularly for the role of King Lear.
Advertisement - Continue Reading Below
He was the first actor to play Hannibal Lector.
This content is imported from youTube. You may be able to find the same content in another format, or you may be able to find more information, at their web site.
Cox portrayed Hannibal Lecter in Manhunter (1988), five years before Anthony Hopkins' more widely-known Oscar-winning performance as the cannibalistic serial killer in The Silence of the Lambs (1991). Manhunter was based on Thomas Harris novel Red Dragon, which takes place before the events of Silence.
Cox "played down the psychosis" of Lecter while also making him more brash than in Hopkins' portrayal. Cox told MovieMaker he "wasn't bothered" that he wasn't asked to reprise the role in The Silence of the Lambs, except that Hopkins made more money than him, explaining: "when you win an Oscar your salary goes whoosh."
He played a Nazi war criminal.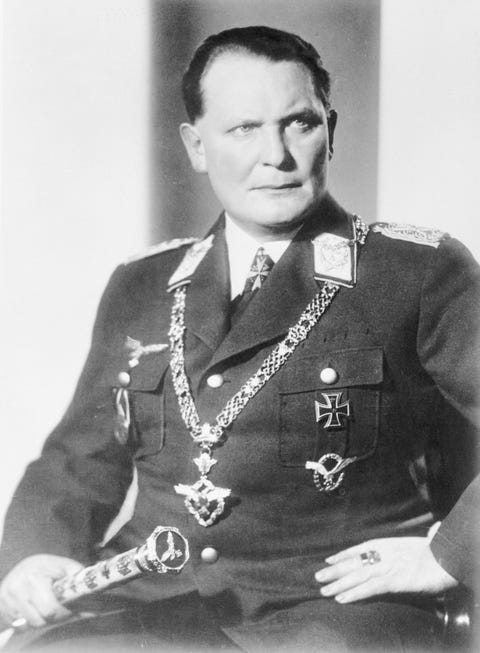 Getty Images
Cox has been nominated for two Primetime Emmy Awards for his role on Succession, but the only Emmy he's won in his career was for portraying Nazi leader Hermann Göring in the 2000 television miniseries Nuremberg. The series tells the story of the 1946 Nuremberg trials, during which Göring and other Nazi leaders were convicted of crimes against humanity.
Writing about the experience for The Guardian, Cox said it was impossible to "act evil" because evil manifests itself in action through power and control. "As an actor, I go one step further and try to combine power and control with a lack of awareness or concern about self-motivation. A paradox which I believe to be the human condition."
He played a pedophile.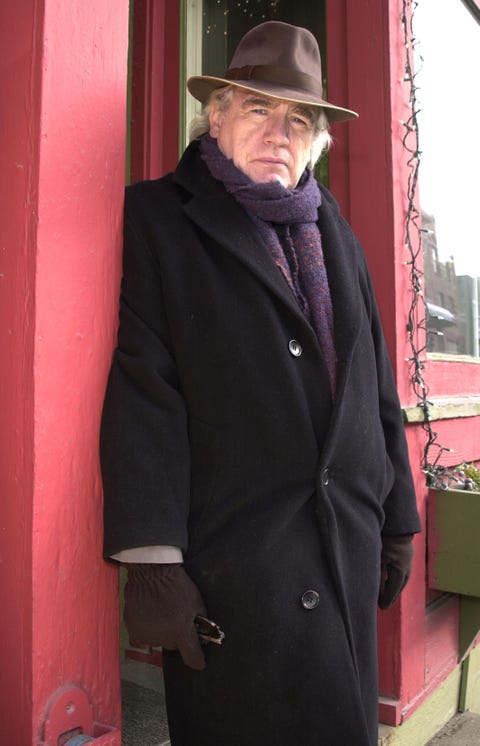 Getty Images
Cox received critical praise and an Independent Spirit Award nomination for his performance in the little-known film L.I.E. (2001). He portrays "Big John" Harrigan, a pedophile who develops a complicated relationship with a troubled 16-year-old boy, played by Paul Dano in his first starring role.
In his memoir Putting the Rabbit in the Hat, Cox said many people warned him away from the part, and he hesitated to accept it because he "wasn't keen on seeing my career sunk by a torpedo." By his long-time manager, Matthew Lesher, encouraged him to read the script, and Cox was impressed enough to accept the role.
Advertisement - Continue Reading Below
He faced off against the X-Men.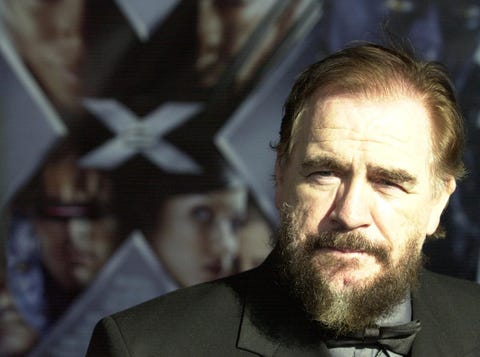 Andrew Milligan - PA Images
//
Getty Images
One of Cox's first high-profile performances for widespread American audiences was his antagonistic role as Colonel William Stryker in the Marvel comic book film X2: X-Men United (2003). Stryker leads an effort to destroy the X-Men and all other mutants on earth, believing them to be a threat to the human race.
X2 director Bryan Singer wanted Cox because he was impressed by his performance in Manhunter. Cox wrote in Putting the Rabbit in the Hat that the increased attention he received from L.I.E. played a part in him landing the role, saying it was "why you'll see me in X2 and not Geoffrey Rush."
He became depressed after finishing his memoir.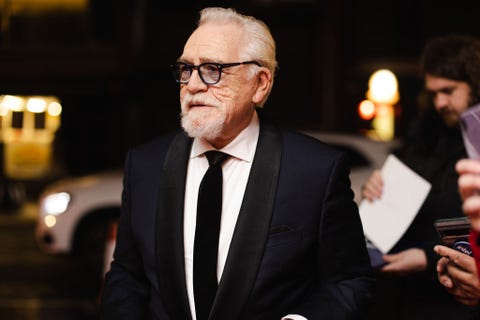 Getty Images
Putting the Rabbit in the Hat, which published in October 2021 in the United Kingdom and in January 2022 in America, chronicles Cox's life from his humble Dundee beginnings to his successful acting career. But after the book was finished, Cox told the Associated Press that he fell into a brief period of depression because he feared the book might "put a full stop" on his life.
"I was feeling, 'Is that all there is? That's the summation of my life?'" he said. "I don't want it to be the summation of my life. I wanted it to be an illustration of where my life had gone to. I'm sure there's more."
He called his Succession co-star's acting "annoying."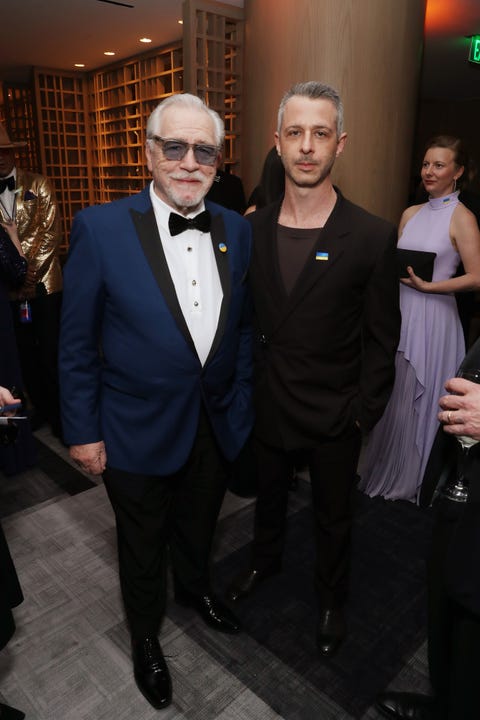 Getty Images
Jeremy Strong, who won an Emmy for his portrayal of Logan Roy's troubled son Kendall in Succession, has generated much attention for his intense method acting and efforts to fully submerge himself in the role. Cox likewise made headlines when he said of Strong's acting style: "Oh, it's f––ing annoying. Don't get me going on it."
Cox has since clarified he thinks Strong's a talented actor, but "it's also exhausting for the rest of us from time to time. But we weather it because we love him." For his part, Strong is not offended by Cox's words, saying that he has earned the right to say "whatever the f–– he wants."
Advertisement - Continue Reading Below
He has voice acted in McDonald's commercials.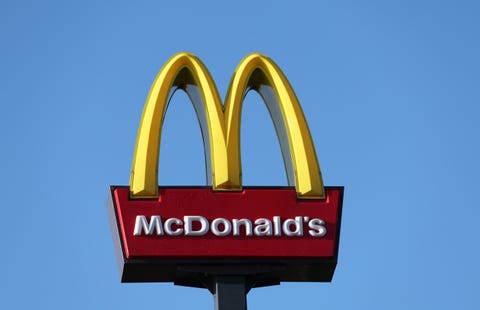 Getty Images
In recent years, Cox has lent his distinguished voice and commanding stage presence to a most unexpected place: commercials for the fast food chain McDonald's, complete with his performing the little "Bah-dah-bop-bah-bahhh" jingle at the end.
Many observers on social media have expressed surprise over hearing Cox's regal voice espousing the virtues of Big Macs and Chicken McNuggets. "There might not be another voice in the world I expected less to have heard on this night," Brady Langmann wrote in Esquire. "But it was meant to be."

Senior News Editor, Biography.com
Colin McEvoy joined the Biography.com staff in 2023, and before that had spent 16 years as a journalist, writer, and communications professional. He is the author of two true crime books: Love Me or Else and Fatal Jealousy. He is also an avid film buff, reader, and lover of great stories.