10 Memorable Jimmy Carter Quotes For Living A Peaceful and Prosperous Life
The 39th president of the United States has dedicated himself to community service and championed human rights throughout much of his life.
By Tyler Piccotti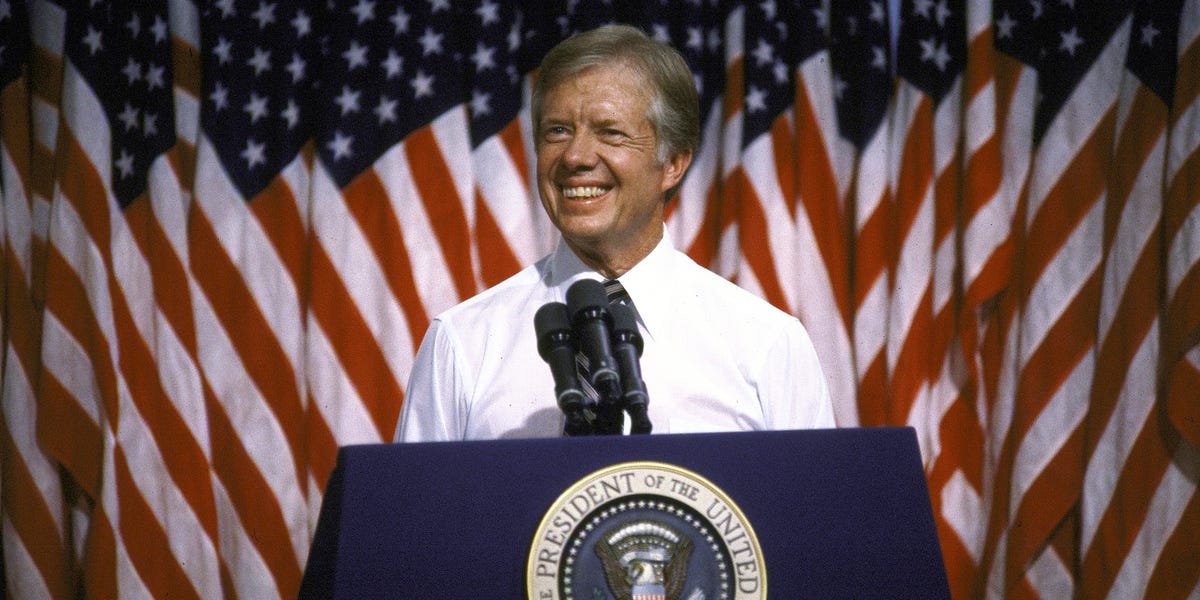 Getty Images
Jimmy Carter on Community Service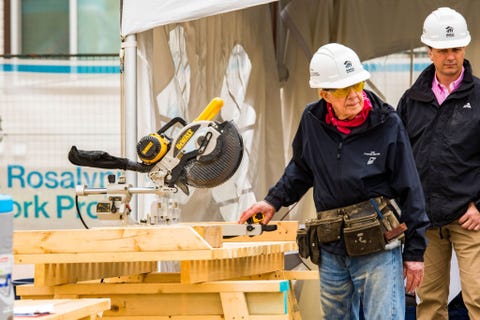 Getty Images
"I have learned that our greatest blessings come when we are able to improve the lives of others, and this is especially true when those others are desperately poor or in need." —interview with Habitat for Humanity
Jimmy Carter on Finding Purpose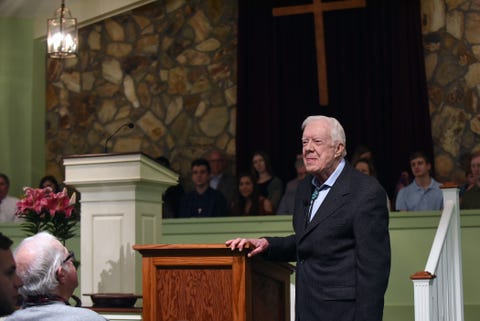 Getty Images
"I have one life and one chance to make it count for something. I'm free to choose that something. That something—the something that I've chosen—is my faith. My faith demands that I do whatever I can, wherever I can, whenever I can, for as long as I can with whatever I have, to try to make a difference." —as quoted by his niece Kim Fuller during a February 19, 2023 prayer service
Jimmy Carter on Human Rights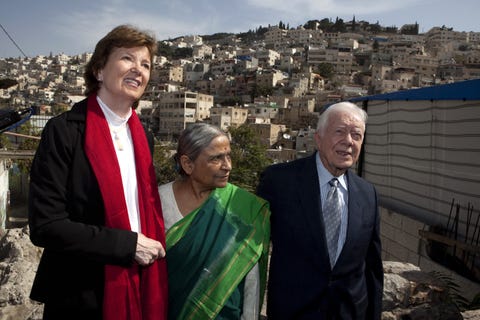 Getty Images
"The rule of law is a process rather than an end product. The desire for freedom and justice is a most powerful force in the lives of suffering people. We must recognize their plight, expose the human rights crimes, rescue victims from their oppressors, and let them join us in sharing the benefits of the rule of laws that provide justice and lives of quality and peace." —1990 address on the state of human rights
Advertisement - Continue Reading Below
Jimmy Carter on Bipartisanship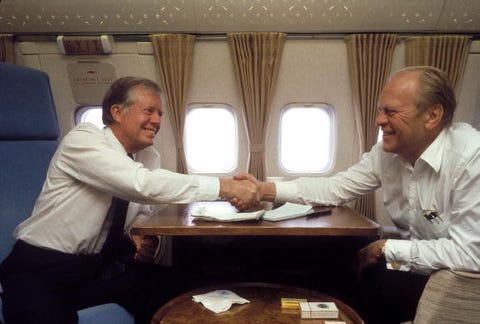 Getty Images
"You learn a lot about a man when you run against him for president, and when you stand in his shoes, and assume the responsibilities that he has borne so well, and perhaps even more after you both lay down the burdens of high office and work together in a nonpartisan spirit of patriotism and service." —remarks at funeral of former President Gerald Ford in 2007
Jimmy Carter on Gender Equality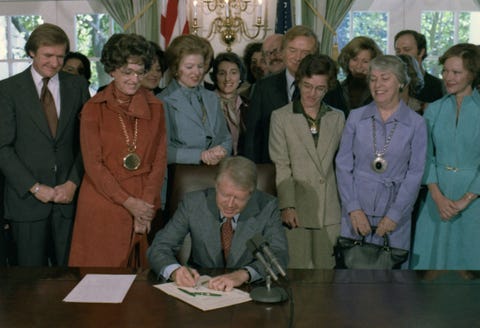 Getty Images
"Yet although economic disparity is a great and growing problem, I have become convinced that the most serious and unaddressed worldwide challenge is the deprivation and abuse of women and girls, largely caused by a false interpretation of carefully selected religious texts and a growing tolerance of violence and warfare, unfortunately following the example set during my lifetime by the United States." —excerpt from A Call to Action: Women, Religion, Violence and Power by Jimmy Carter
Jimmy Carter on the Horror of War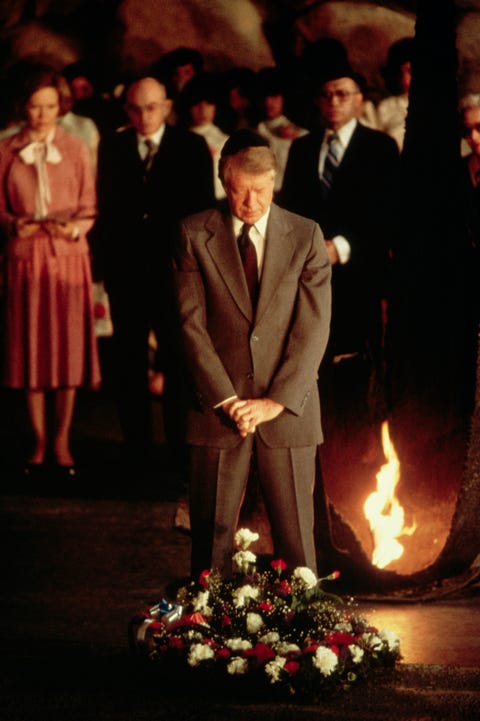 Getty Images
"War may sometimes be a necessary evil. But no matter how necessary, it is always an evil, never a good. We will not learn how to live together in peace by killing each other's children." —Carter's 2002 Nobel Lecture
Advertisement - Continue Reading Below
Jimmy Carter on Peacekeeping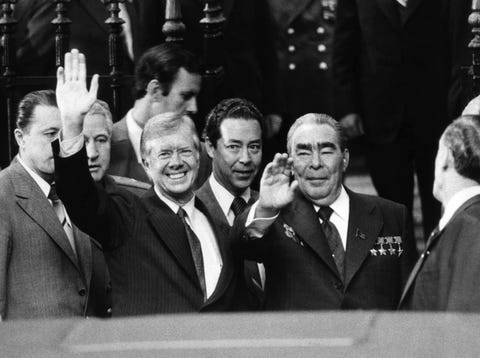 Getty Images
"History teaches, perhaps, very few clear lessons. But, surely, one such lesson learned by the world at great cost is that aggression, unopposed, becomes a contagious disease." —January 4, 1980 speech on the Soviet invasion of Afghanistan
Jimmy Carter on Overcoming Hardship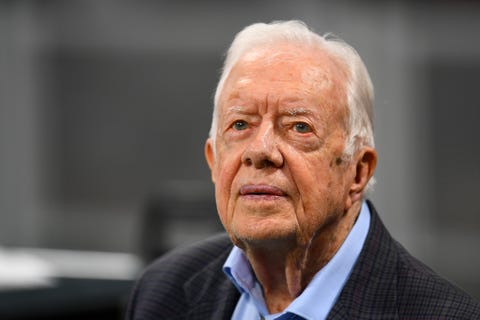 Getty Images
"Our American values are not luxuries, but necessities—not the salt in our bread but the bread itself. Our common vision of a free and just society is our greatest source of cohesion at home and strength abroad—greater even than the bounty of all our material blessings." —President Jimmy Carter's farewell address on January 14, 1981
Jimmy Carter on the Secret to His Marriage With Rosalynn Carter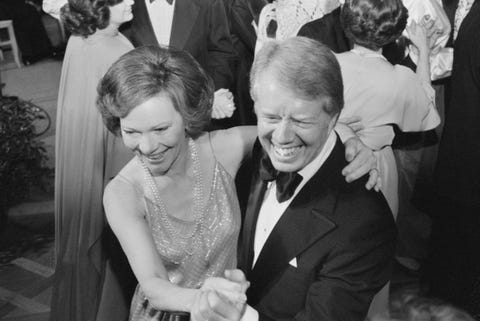 Getty Images
"At the end of the day, we try to become reconciled and overcome all the differences that arose during the day. We also make up and give each other a kiss before we go to sleep." —2021 interview with PBS NewsHour
Advertisement - Continue Reading Below
Jimmy Carter on the Future of the United States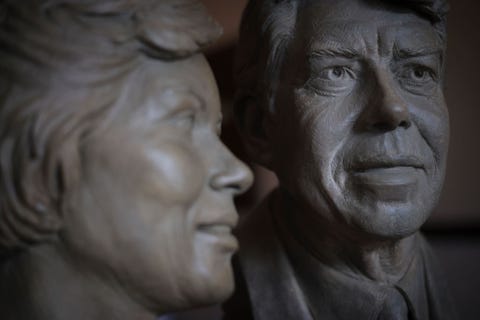 Getty Images
"Sometimes, I'm fearful and, sometimes, I'm hopeful. But, overwhelmingly, I'm hopeful. I have confidence in the basic integrity of the American people." —2021 interview with PBS NewsHour
Associate News Editor, Biography.com
Tyler Piccotti joined the Biography.com staff in 2023, and before that had worked almost eight years as a newspaper reporter and copy editor. He is a graduate of Syracuse University, an avid sports fan, a frequent moviegoer, and trivia buff.